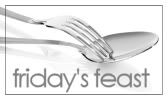 First off, I had a WONDERFUL birthday yesterday...I will try and blog about it later this weekend. :)


Appetizer
Who was the last person you hugged? My friend Alexis after bowling last night.

Soup
Share a beauty or grooming trick or tip with us. You don't need to shower every day...I shower every other usually and survive just fine. Also...let your hair air-dry sometimes!! Natural hair is pretty. I have some friends who blow dry/stick gel in their hair every day, spending hours on something they don't need to. I just wish they'd see their natural beauty!!

Salad
What does the color yellow make you think of? My sister Rachael, it has been her favorite color her whole life!

Main Course
If you were to make your living as a photographer, what subject would your pictures revolve around? Probably children or nature. One of my ALL time favorite nature pictures can be found 2 posts below this. :D

Dessert
What was the longest book you ever read? Probably the Bible. I've read it a few times over the course of my life.