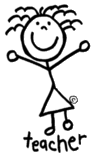 My co-teacher Aniya is most likely leaving after this school year due to scheduling problems. I am going to miss her SO much...so this post is dedicated to her!

1. We have FUN together, even though we are at work.

2. We are always laughing about something a child, usually Daley, has done...

3. She is bold...what I am striving to be!

4. She teaches me about the culture in her South American country, which is always very interesting.

5. She's not afraid to speak her mind...today, some neighbors to the school were having a cookout because it was a beautiful day, and she almost invited herself over for chicken and beer.

6.She talks to me during lunchtime even though she's supposed to be studying.

7. She offers me coupons for Kohl's and book fairs that she refuses to attend because she'll spend too much money...but c'mon...they're kids books!!!!!

8. We can talk about everything and everything to each other. I hear about her husband's ADD, late night music practices, job searches, apartment searches, and she listens to my same job/apartment issues. Today, I think we talked about a million things ranging from the kids in school, their parents, our pet bunny rabbit, the fish in our classroom, clothing, biology, sex, our parents, parties, bills, travel costs ...seriously. It's awesome. Yea, she was supposed to be studying ;)

9. She follows through with discipline and doesn't seem to miss a thing any of the children do.

10. She listens to my ideas for projects and together we come to conclusions...we are true CO-teachers.

11. She let me not do circle for the first three weeks of school because I was terrified of it...eventually, she gently let me know that she thought I was ready to do it, and that was a boost of self confidence. That was 7 months ago and I've been doing it ever since.

12. We can communicate without words...sometimes all it takes is a nod in the direction of a child and she knows what I'm talking about...and vise versa...

13. When I accepted the job at my school, I was coming from a bad nanny job and was

terrified

as to what I was getting myself into. Aniya instantly put me at ease and welcomed me, even though I'm sure she had some interesting first impressions of me...for that, I will be forever thankful!!

Thursday Thirteen