The Australian area of the zoo was one of my favorites- many cute, colorful and interesting animals!!!
Prevost Squirrel

Porcupine
Matschie Tree Kangaroo- he's cute!
Lorikeets- I have never seen birds so colorful!!
Komodo Dragon
Kangaroo!
Some strange bat...
Banded Palm Civet
Aww, my new favorite animal. HOW SERIOUSLY CUTE?!?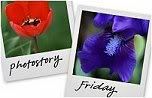 Hosted by Cecily and MamaGeek