Since I'm sitting here bored in the Catholic church parking lot (reading a very interesting book on polygamy, ironically enough) I may as well blog, right?
Happy Sunday to me!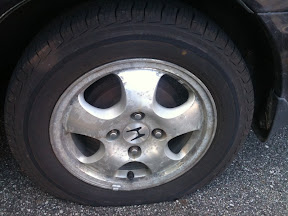 Can I just say, cars hate me! As I left babysitting last night, the car felt a little wonky at first but then seemed okay so I went home. Today after walking out the church doors, I arrive at my car to find this gift. Seriously?! SERIOUSLY?! Come on, now. It is my ONE day off this week. I'm exhausted. I just want to relax, not deal with having to get a tire patched or (please God, no!) get a whole new one mounted on a Sunday, when hardly anyone is open!
Cars hate me.
I bought this car in April. It's my second Honda Accord...my first, I sold after owning it only 20 months. Hondas are supposed to be good cars, I'm told. Within the second and third months of owning this one I put in a good $1400 of work. Sigh.
And then in September, on the second day of A's preschool, one of the moms backed into the front passenger side. When she offered to have it polished, I laughed. I don't care about the dent really. I notice it, but I don't care..but really?!
Yea...cars just hate me. I'm not fond of them either. If I move in the spring/summer, I would love to live somewhere 1) it doesn't snow and 2) I don't need a car!!!!!!!!!!!!!!!!!!
- Posted using BlogPress from my iPhone